Every Institute needs to manage its transportations for institute members like students and employees. SchoolBic offer a rich System to manage and track Institute buses with live tracking using our mobile apps.
Access transportations using by clicking on transportation from the left menu.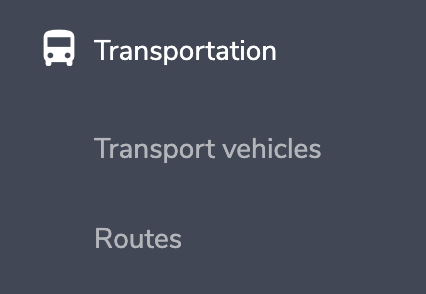 Transportation vehicles:
Here you can manage your Institute transportation vehicles. Every vehicle has a plate number, vehicle colour, vehicle model, vehicle driver and notes about this vehicle. 

Routes:
Here you can control your routes with members of every route, in addition to the ability to issue invoices automatically to members of this route to pay transportation fees.
Bus Tracking:
Parents will be able to track bus on the map as it is moving via their mobile app with push notification, you can configure push notification for bus tracking see this guide.