Staff Attendance is a very important module to manage your Institute staff ( Teachers and Employees ) daily presence, absence and another attendance status ( Present – Absent – Late – late with excuse ).

Click on Staff Attendance from the main left menu.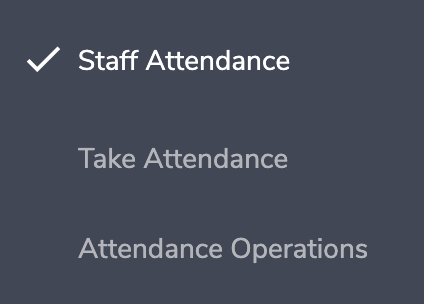 Manually Taken staff attendance:
Staff Attendance module allows you to take staff's attendance manually using your portal in addition to getting reports about your staff's daily attendance.
QR-Code Based Attendance:
You can also take attendance using QR-Code Based attendance using our Mobile application through scanning a QR-Code using our Mobile apps ( every staff member scan this code that will be generated by the system).
Location-Based Attendance:
You can also take staff's attendance using their location, as our Mobile applications intelligent enough to check if the staff member is located now inside the institute or outside using their locations.
Biometric attendance system:
You can integrate multiple biometric devices on the platform for taking attendance Using Their Biometrics Like The Fingerprint Or Face Recognition