1. Go to Administrative tasks on top of the page.
2. Then select General Settings from the drop-down menu.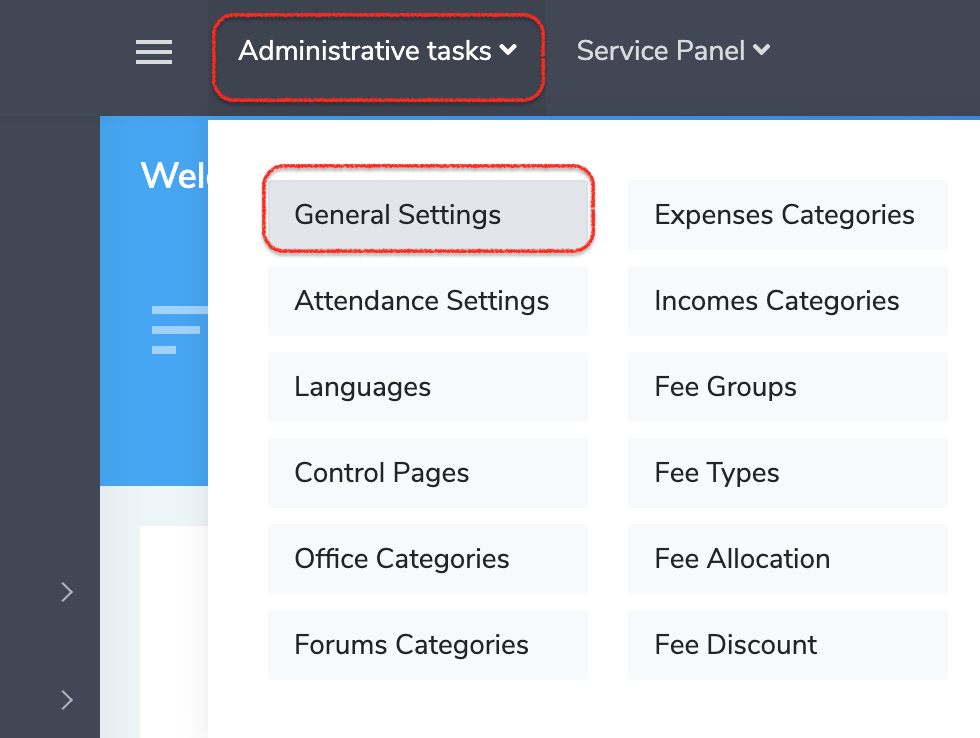 3. Select Global Settings.
Change your institute portal language here, choose between a variety of languages ( English – Spanish – Portuguse – Bengali – Chineese – Indonesian – Romanian – Thai – Arabic – French – Dutch – German – Hindi – Italian – Turkish – Russian )
Allow users to change languages:
Allow this option if you want institute users to be able to change language from their accounts. When users change language, this change will affect his or her account only. Disallow this option if you want all users portal use default language you choose on the previous option.

The country where your institute located.
The main address of your Institute.
Secondary address of your Institute.
Phone number to contact the Institute.
Main contact email of Institute.
Click include if your Institute model using sections inside your institute classes.
Select the timezone of your institute country timing.
Select the calendar that your institute is working with, SchoolBic offers you variety of supported calendars ( Ethiopic – gregorian – Islamic – Persian ).
If you need to offset institute calendar days forward or back by one day or two days.
Select the format of dates on the institute, how will dates displayed to members on the system.
DD => Days, MM => Months, YYYY => Years.
Select mandatory to make email is mandatory while registering students.
Google Analytics Tracking ID:
If you are using Google Analytics, write ID here
This option to enable secure connections ( HTTPS ) to increase the security of your institute, don't enable unless you've SSL certificate enabled in your domain.
Type of used typing editor, the advanced editor contains more options to control text. Simple editor contain simple and fast options only like controlling text size and making text bold.
1. Simple Editor




2. Advanced Editor